Newsletter 2– May 2020
This newsletter supplements the weekly one sent out by Paul with information about weekly services. As well as e-mail distribution, It will be posted to members of the congregation who do not have internet access.
10 days of prayer
Dear all, on Ascension day (Thursday 21st May) there will be a service of prayer and reflection online, on the website and on Facebook and YouTube. This marks the start of 10 days of prayer. During the 10 days I'm aiming to have a daily midday prayer at 12noon on YouTube and Facebook. Please join in if able as we pray – 'thy kingdom come'. Best wishes. Rev Paul.
"Teach The Older Men (And Women) To Be......Self-Controlled"
Titus 2:2 NIV
Dale Evans (wife of Roy Rogers) loved Jesus with all her heart and made sure folks in Hollywood knew it. Here is one of her prayers.
Lord, thou knowest better than I know myself, that I'm growing older, and will someday be old. Keep me from getting too talkative, particularly from the fatal habit of thinking I must say something on every subject. Deliver me from the need to try and straighten out everybody's affairs. Keep my mind free from the recital of endless details; give me wings to get to the point. I ask for grace to listen to the tales of others' pains; but seal my lips when it comes to my own aches and pains, for they are increasing and my love of rehearsing them gets sweeter as the years go by. I ask not for improved memory, but for a growing humility and less cock-sureness. Especially when my memory seems to clash with the memory of others. Teach me that occasionally I may be mistaken. Keep me reasonably sweet. I don't necessarily want to be a saint; some of them are so hard to live with. But a sour old woman (or man) is one of the crowning works of the devil. Make me thoughtful but not moody, helpful but not bossy. With my vast store of wisdom it seems a pity not to use it; but Thou knowest Lord, I want a few friends at the end. So give me, I pray, the ability to see blessings in unexpected trials and goodness in less-than-perfect people. And give me the grace to tell them so, in Christ's name, Amen.
Jill Hayward

*************************************************************
MORE ABOUT KITCHEN WOOD
SECRET LIVES.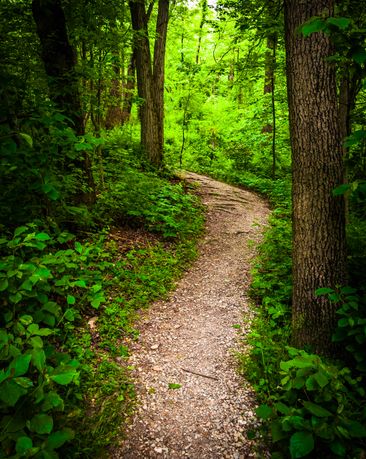 Like many others, we have enjoyed the freedom of walking through Kitchen Wood and catching a glimpse of neighbours' lives – dog walkers, families, loners – as we all smiled keeping social distancing. Entering the quiet of the wood one day in mid April, breathing in the fragrance of the bluebells, we soon, to keep our distance, needed to take a narrower side path, with Richard walking ahead. Angela was startled by a bird flying up from the rotting stump of a silver birch, just feet away, on to the smooth trunk of a sycamore – a small, neat bird with dark brown plumage above and pure white below and a stiff fan-shaped tail, running more like a mouse than a bird up the trunk, then along the underside of a branch and out of sight. A treecreeper ! - a favourite bird of ours, not seen here before. At home, we read that its nest is unique among British birds – an oval cup wedged behind loose bark. Its food, winkled out of cracks in the tree bark, is insects and spiders, their eggs and larvae. The next day saw us taking the same path, moving carefully, scarcely daring to hope we might see it again, when to our amazement and delight it flew from the middle of the ivy – bound silver birch stump on to the same sycamore. Holding our breath we watched as it worked its way up the trunk, then fluttered down on to another nearby tree trunk, and worked its way up one after another, and even up slender saplings. Its long curved slender bill probed the bark until its beak was full, when it flew to its nest in the stump. Eventually it flew into a thicket. Angela crept forward to peer into the nest behind the loose bark, buried deep out of sight. We were hidden from anyone's view in our secret world, thrilled to catch a glimpse for a little while of the secret life of the treecreeper – secrets that are sacred gifts of our loving Creator.
And there were more secret lives. A robin in a nearby thicket was clearly gathering food for its young but wary of revealing its nest. As we left the wood, in an untidy corner we came face to face with a bank vole emerging from its tunnel in a bank. It backed away with a twitch of its nose and we went on our way elated.
Angela & Richard
**********************************************
LOVE'S ABC'S
Love Accepts, Behaves, Cheers, Defends, Enriches, Forgives, Grows, and Helps.
Love Includes, Joins, Kneels, Listens, Motivates, Notices, Overlooks, and Provides.
Love Quiets, Respects, Surprises, Tries, Understands, Volunteers, Warms, Expects, and Yields.
Love in actions breaks the code that adds Zip to your life!
**********
Barry wrote on 15th May.
My wife, Norma, has had her pot removed and is now getting around with the help of a removable "boot" and a walking stick. Today she walked 0.6 mile and is slowly getting quicker. In 5 weeks time she will be able to leave off the boot and begin the long process of getting fit to hike our usual 8 miles each week.
My Just Giving page "Barry's Dronfield Christian Aid" has raised £1,650 to date. I am hopeful that it will reach and surpass the target of £2,000.
We are getting to learn new skills on the computer and enjoy meeting friends and family on Zoom regularly. I attend Choir practice on Zoom – I thought I would miss weekly rehearsals while Norma needed looking after but I have been able to keep up with everyone. Keith has showed me how to record video clips for services and, more importantly, how to send them to him for inclusion in the Sunday services!
My daily exercise at present consists of a visit to my allotment most mornings – it is looking better now than for many years. Our Bible Study group has expanded online so anyone can join in – well done Cedric.
Barry.
*****************************
The Wilson family have a new addition this morning (15th) weighing 7lbs 3oz. Another son Jacob for Louise and grandson for David and Alison. Congratulations to all the family.
************************************
It is with great sadness that we hear of the arson attack on Sheffield Cathedral and the Archer project premises in particular. Please pray for the staff, its volunteers and those who rely on their help. Fortunately no one was hurt.
**********************************************************
A MEMORY OF VE DAY
There was a lot on TV, websites and in the newspapers concerning the recent 75th anniversary, and quite a few socially distanced street party round and about. Although I was around in 1945, I was too young to remember the celebrations then – though I do recall the VJ celebrations just a few months later.
I spoke to Harold Collier recently- a teenager at the time. He remembers vividly what he was doing – walking around the streets of Manchester playing his bagpipes!
He was a proud member of the 6 th Manchester Boy's Brigade, based at Ashcroft Congregational Church. Pipe bands were big in Manchester back in those days and the Boys Brigade alone had 3 of them.
Although Harold no longer has a set of bagpipes, he does still have his practice chanter which he uses from time to time.